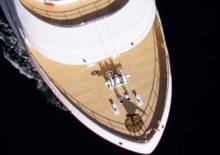 Kay-Enno Brink is known as an experienced naval architect in the field of sea trial measurements on seagoing ships. A multitude of sea trials has been planned, conducted, supervised and analysed by Kay-Enno Brink in the last two decades.
Independent DGPS compass data are recorded and analyzed when the speed-power characteristics or the manoeuvring qualities of a vessel have to be assessed. Besides this, the scope of services include the measurement of shaft torque/power as well as an investigation of ship-borne noises and vibrations.
The analysis of speed-power trials accounts for all relevant influencing factors and usually follows international standards like ISO 15016. The manoeuvrability of ships is analyzed and verified with regard to the relevant IMO criteria.
On a regular basis sea trials are carried out in co-operation with the Hamburg Ship Model Basin (HSVA).